From gowns to shoes to accessories, Red was everywhere on the carpet at the 2011 Golden Globes. I am in awe of these beautiful stars. How do they pull off such a challenging colour to wear?
Red wasn't the only primary colour on the scene, the stars were also shining in emerald, peach and navy. Unfortunately there were also some celebs who tried too hard. In these cases (see bottom), the extra stitching, netting and embellishments were just too much.
BEST DRESSED
Natalie, you won it all. You are absolutely glowing in this
Viktor & Rolf
satin floor length gown. I LOVE, LOVE, LOVE the red rose embellishment and red hot heels. What a perfect dress to show off your baby bump! (I probably love this the most because it reminds me of when I was pregnant at Neil and Jen's wedding, only 5 days before Madelyn was born...such happy memories).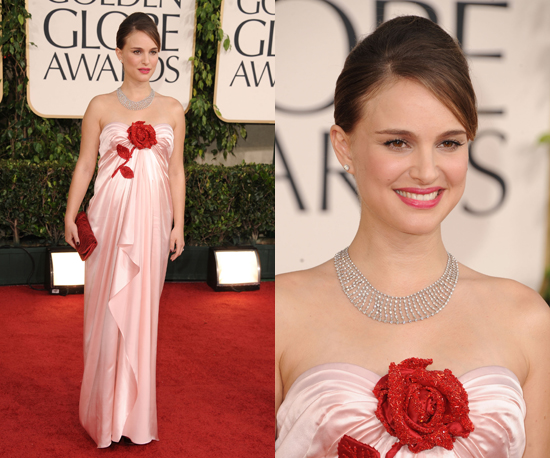 HOTTEST IN RED
Every blog is buzzing about who was
the
lady in red. I have to hand it to January, I can't get enough of you in this risky
Versace
. Only January can pull that off. I love the plunging neckline, cutouts, dramatic lips and silky hair. Stunning. Sofia Vergara and Christina Hendricks, you are my runners up in
Vera Wang
and
Romona Keveza.
Way to flaunt your stuff!
PRETTY PEACHY
Emma Stone stepped up her image while Claire Danes stole my heart, both in sophisticated
Calvin Klein
. Claire, your hair also looked amazing btw.
SEXY NAVY
Amy Adams looked stunning in this teal
Marchesa
gown and romantic up-do. And Tina Fey, HUGE improvement from the 2010 Globes.
GLITZY GREY
My favorite on-screen mom, Julie Bowen, looked amazing and toned in
Maz Azria Atelier.
Love the silhouette.
SOPHISTICATED SHOULDERS
Anne Hathaway and Leighton Meester were fashion forward in
Giorgio Armani Privé
and
Burberry Prorsum.
These gowns grew on me as the night went on. My only complaint for Anne was that her back sheer didn't seem like the exact right tint of nude. Anyone agree?
EMERALD BEAUTIES
Elizabeth Moss (
Donna Karan),
Mila Kunis (
Vera Wang
)
and Catherine Zeta Jones (
Monique Lhuillier
) were my favorites in green. Although I'm not crazy about the mid-section on Moss's gown, I really like how she's up'd her glam over the years. I do realize that Angie also wore Emerald but I have her listed below.
NOT WORST DRESSED...BUT WORST HAIR
Angie, Angie, Angie, why would you ruin this great
Versace
by forgetting to get your hair done for the Globes? It instantly reminded me of Victoria Newman. If you didn't want to put it up that's fine, but at least pin up the side or do something with your bang area. Shesh. And Sandra, I know you've had a hard year, but why let it show with such messy hair. You could have looked so great in your
Jenny Packham.
Were you just trying to lay low in case you ran into ScarJo on the carpet?
WASHED OUT NUDES
Scarlet, you could have done better than this
Elie Saab
dress. You are recently single, you should be strutting your stuff. Nicole, you were way too boring in this cream
Prada.
You and Keith just don't match. And what's with the black/blue ring? On the other hand, Dianna Agron looked very pretty in this
J. Mendel
, but I'm still not crazy about beige for the Globes.
WORST DRESSED
Michelle Williams, sorry but this
Valentino
does not do it for you. I know it's love it or hate it, so I
hate
it. It has the wrong shape and the print is hideous. You're a pretty girl, you can do better.
And Christina Aguilera and J-
Low
, both in
Zuhair Murad,
what were you thinking? Christina, everything but your hair is wrong, and JLo, who let you out of the house with silver eyeshadow and this chinatown shall? Yuck.
Lastly, Jayma Mays, can you please EAT SOMETHING? You are scray skinny in your
Alberta Ferretti,
it's falling off of you! And please, just because Red is the IT colour, don't wear it on your lips if it doesn't look good on you. What happened since last year? You were so pretty in your
Badgley Mischka Couture.
Gain 10 lbs and get back to last years style.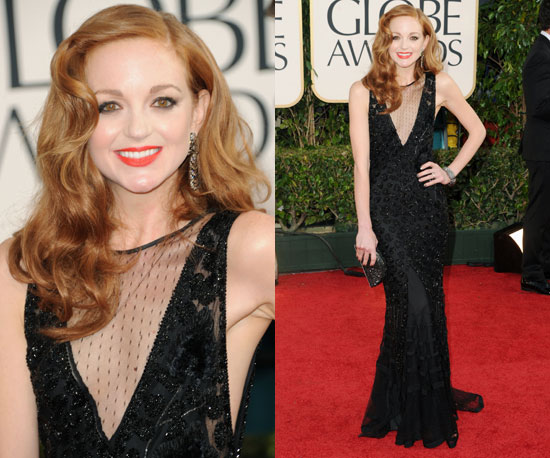 2011 Globes
2010 Globes